For the past five months, Iryna Kolosovska's life has been tumultuous. Having fled the war in Ukraine, Iryna found herself in Canada, working as a Care Support Assistant at Bradford Valley Community.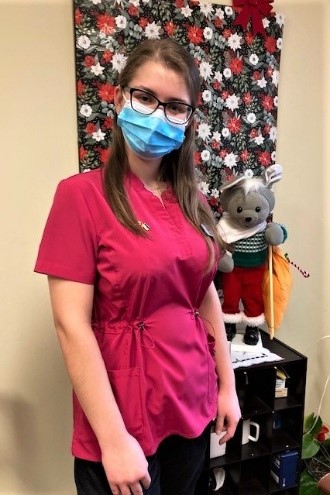 Not surprisingly, the road here has not been easy. Iryna arrived with her sister and mother, but she left her father and extended family behind in what she's simply described as a "terrible and unsafe" situation.
But Canada offers her a new beginning.

"I have big support," Iryna says in broken, but her rapidly improving English. "I like my team, the residents, everybody. People here are very nice."
The area surrounding Bradford Valley has an established Ukrainian community, making her transition to Canada – and to Sienna – easier.
Team members have also risen to the occasion, helping not only Iryna, but nine other Ukrainian refugees to find accommodation and work at the community. Some have opened up their own homes, while others have ensured Iryna and her colleagues have a ride to and from Bradford Valley for every shift.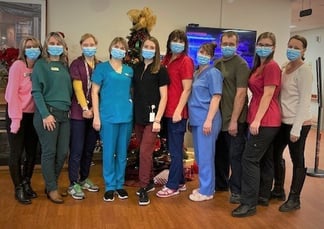 This goodwill is not lost on Iryna. "She works very hard," said Oksana Kobzar, Bradford Valley's Associate Director of Care and the group's unofficial translator. "She doesn't have a lot of free time, but she still takes extra shifts when she can."
Between those shifts you'll find Iryna online, continuing her business studies at a Ukrainian university.
The little free time Iryna does have is spent with other Ukrainians in the local community. She's very much looking forward to the holiday season, and to spend time with their young families.
And for 2023?
"I wish for the war to be over so I can return to Ukraine and attend my graduation in June."
In the meantime, we are thankful to the Bradford Valley team for making Iryna and her colleagues feel so welcome and appreciated.
Behind the scenes, there has been significant work to identify Ukrainian refugees who are looking to settle on a permanent basis in Canada. Through a company called Joblio, several communities and retirement residences have not only helped to process these refugees, they have found temporary housing (including in some vacant Aspira suites) and assisted in orienting them into their new communities.
To date, Sienna has identified 14 PSWs, 4 culinary positions, and one maintenance role that have been, or are in the process of, being filled by Ukrainian refugees.
We welcome them all and wish them much success in Canada.