Before Eddy Gooch decided that he was going to be a nurse he spent a lot of time at the hospital with his mom, who was battling respiratory issues and pneumonia. At the height of her illness, Eddy's mom was in the ICU on life support. Although it was a frightening and overwhelming time for him and his family, it was the compassionate care and comfort from nurses that made the biggest difference.
"I realized then that I would love to be able to make that kind of difference in someone's life," said Eddy. "It was also the fast pace, attention to detail, and comprehensive knowledge displayed by the interdisciplinary team and specifically the nurses that made such an impact."
Eddy was amazed at how the nurses navigated from life-saving monitoring of critical equipment and then seamlessly transitioned to providing those little extras of honouring his mother's personal well-being.
"The nurses took the time to provide sweet things for her such as getting her ready, cleaned, and dressed when we came to visit," said Eddy. "They would even go beyond by putting her hair up in ties so she looked and felt better."
Seeing the many students in their local nursing school uniforms caring for his mother further sparked Eddy's desire to become a nurse. Today, Eddy is on his way to completing his nursing degree and is set to graduate next fall.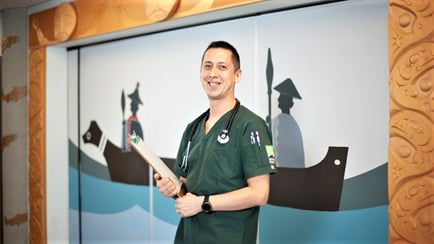 Eddy is also one of the first recipients of The Sienna for Senior's Foundation's, student bursary for Indigenous students pursing education in a health related field. The Foundation's $25,000 donation to Indspire's Building Brighter Futures: Bursaries, Scholarships and Awards program is part of Sienna Senior Living's commitment to building and strengthening partnerships with Indigenous communities.
"Along with the need to be a new face of nursing, I continue to become increasingly aware of the underrepresentation of Indigenous healthcare workers," said Eddy. "I believe it will take many changes to make this a reality and support from the community in ventures like this award will go a long way to making education at the degree level more attainable for Indigenous students."
As a Canadian company, Sienna has a role to play in creating equal opportunities for Indigenous students to find fulfilling careers in health care, and to enrich the sector with their experiences and traditional practices.
"Sienna is committed to taking concrete steps towards reconciliation," said Nitin Jain, Sienna Senior Living President and CEO. "Working with Indspire, we hope to better understand the challenges Indigenous students are overcoming and help celebrate their achievements."
Indspire is an Indigenous national charity that invests in the education of First Nations, Inuit and Metis people for the long-term benefit of these individuals, their families and communities, and Canada. Indspire has been named a Top Rated Charity for two years in a row by Maclean's. To donate and learn more about Indspire please visit: https://indspire.ca/ways-to-give/donate/