Aspira Riverbend Crossing Memory Care is a community dedicated to people living with Alzheimer's, dementia, and memory loss. All aspects of life at Aspira Riverbed Crossing are designed to support quality of life, combined with safe, excellent care. One of the most important components is the home's culinary program. The team is proud to create menus that specifically address the needs of residents.
Gillian Kehler, the residence's previous Executive Chef and now Office Manager, led the charge in researching the importance of specialized menus for residents. She determined three crucial dining aspects for residents with Alzheimer's, dementia, and memory loss: familiarity, small portions, and easy-to-eat foods.
Familiarity: Despite memory issues, our residents remember meals from their childhood. They are less likely to eat foods they don't recognize. That's why we follow classic, nostalgic recipes from the residents' younger days. We aim to bring comfort and pleasure at meal times.
Small portions: Residents with Alzheimer's, dementia, and memory loss are easily overwhelmed by many things, including having too much food in front of them. It's essential to serve small portions, keep space between food items, and entice their appetite with colours and smells. We also ensure that courses are served one at a time and that we minimize cutlery, glasses, and clutter on their dining table.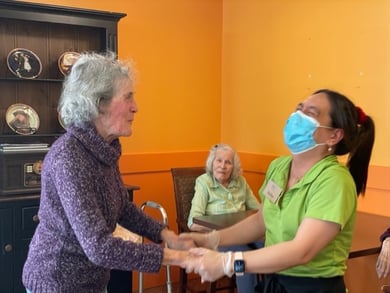 Easy to eat: Many of our residents have forgotten how to use cutlery. This is why finger foods are beneficial. Serving bite-size pieces that can easily be eaten by hand allows residents to maintain independence while ensuring their nutritional needs are met. In addition, sauces and gravies are served on the side. Finally, residents need to be encouraged with their nutrition and hydration, both at mealtime and throughout the day, always allowing the residents to go at their own pace.
Since introducing our new approach to dining almost a year ago, meal times have become even more enjoyable at Aspira Riverbend Crossing.
January is Alzheimer's Awareness Month and is an opportunity to highlight how seniors with memory loss can live fully and with purpose.