As most of our team members know first-hand, one of the most challenging aspects about seniors care is when we see residents' health decline. Although it is a natural part of the aging process, it's never easy, and we do everything in our power to enhance their quality of life during this time. Phoebe, one of the residents at Langstaff Square Community, recently became withdrawn, stopped eating, and had no desire to do anything. It was heartbreaking to see because prior to this she was always busy with fellow residents, walking about the halls and enjoying life.
As she began to lose weight, the Langstaff Square team, as well as her doctor and family became increasingly concerned. At the rate things were going the doctor agreed that she was near end of life and they began discussing next steps with her family.
When speaking with Phoebe, the team asked her if there was something in her life that she always wanted to do to see if they could support her in making her final wishes come true. She expressed that she had always wanted to go on a blind date, but never had the chance to.
Upon learning this, the wheels began to turn and plans were set into motion. Deniese Johnson, Executive Director at Langstaff Square, knew Phoebe had a wonderful connection with one of their former team members, Shiv. So, she decided to give him a call to see if he would be interested in coming in for a blind date with Phoebe – and without hesitation, he agreed.
They moved ahead to organize this special date and Deniese let Phoebe in on the plan, keeping her date's name a secret. "She was filled with such anticipation and excitement, and I let her know we would need her to start eating again while we finished planning so she could be healthy enough to attend," said Deniese.
As they watched Phoebe get stronger day by day, the team was busy arranging all the details of the date including a special invitation, a colourful outfit, flowers and decorations to set the scene, and a very special meal. Everyone pitched in to help, from the recreation team, to the dietary team, to the director of environmental services, and the nursing team.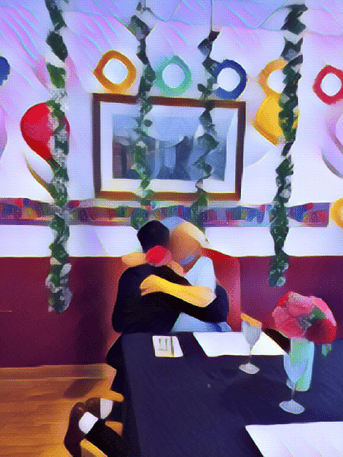 When the day finally came, Phoebe was overjoyed to discover Shiv was joining her for the evening. He was the perfect gentleman, playing piano for her and treating her like a queen. Phoebe had such a lovely time that she now carries the invitation around the community to show fellow residents and the corsage now hangs on display in her room.
Phoebe's daughter, Barbara, wrote to Deniese and the team afterwards to express her thanks saying, "In the years that Phoebe has lived at Langstaff Square, I always knew that she has been well taken care of…It's the little things like the dinner date that means so much to myself and Phoebe."
"Seeing the positive impact this experience had on Phoebe has been amazing…it has literally changed the course of her life. She has a brighter outlook and is much healthier and happier," said Deniese. We are so grateful for the incredible team at Langstaff Square, who pulled out all the stops to host this beautiful evening for Phoebe, who is now looking forward to a new blind date.