Sienna team members will be the first to tell you how inspiring it is to listen to the stories of the residents we care for and support. Each resident has a unique perspective and life story that contributes to making us better as individuals, as a team, and as an organization.
At St. George Community, in Toronto, Ontario, one resident named Michael frequently shares his experiences with homelessness, always showing concern for others who face similar situations. When he expressed a desire to give back and to help make the surrounding community a better place, it inspired an idea that was presented to the St. George Resident Council – to create a community outreach program that would focus on supporting people experiencing homelessness.
There were no questions about it – everyone was determined and excited to launch this new initiative born out of the hearts of the residents. Catherine Medeiros, Director of Resident Programs at St. George, shared that the program aims "…to support and give hope to the most vulnerable, and to let them know there are people who care about their well-being."
Over the last few months, residents and team members have worked together to plan, gather items, and identify areas to visit through this program. In August, 2022, the residents hosted a garage sale to help raise funds for the outreach program, raising a total of $260 that went towards purchasing fall and winter items to distribute for the cooler seasons.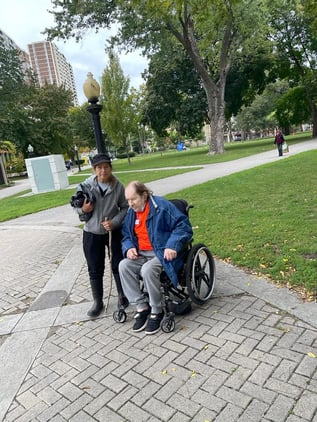 From there, the recreation team and their student volunteers put together care packages with items such as socks, gloves, and blankets, before venturing out on their first outing in September with several residents and nursing team members. They spent the day at Allen Gardens handing out the care packages and visiting with people experiencing homelessness. It was a rewarding day filled with emotions, and for Michael, it was wonderful to realize his ambition with the help of the St. George family. "I was very happy to finally get to accomplish my desire to give back to the community that I was once a part of," he said.
After such a fulfilling and eye-opening experience, residents and team members have already started planning their next community outreach initiative, which will be a food and toy drive for a local woman's shelter.
This program has brought the St. George family closer together, providing opportunities for residents and team members to build connections, strengthen their sense of belonging, and give back to people in need.
"It was such a great feeling giving back and seeing all the departments throughout the home come together to make this day a very successful one," said Catherine.