There was no shortage of gratitude at Aspira Lynde Creek Gardens Retirement Living when the dedicated volunteers at Community Care Durham's (CCD) Meals on Wheels program picked up the freshly made, home-style Thanksgiving dinners. With a special holiday meal already in the works for residents at Lynde Creek, Chef Michael Stewart, the executive chef at the home was happy for the opportunity to make additional food for 20 seniors living in the community.
"This time of year, is all about being thankful and taking stock of everything we have to be grateful for," says Chef Michael. "I am so passionate about food and providing nutritious meals for the seniors we care for at Lynde Creek, and if there is a way for us to give back, we are all onboard."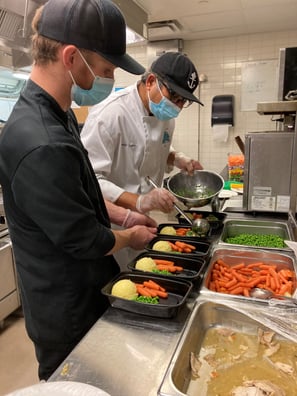 The team at Lynde Creek packaged more than two dozen meals, complete with all the fixings. The home is proud to be part of the vibrant Whitby community, and many residents raise money for various groups. Partnering with CCD takes this spirit of giving one step further to a corporate level through the Sienna for Seniors Foundation. The Thanksgiving meals are being donated through the Foundation as part of a new initiative called Sienna Sunday Supper.
According to Community Care Durham, food insecurity is a growing concern in Whitby and the surrounding areas. Last year alone, the organization delivered more than 150,000 meals to people in need. This type of outreach program is not only vital because it feeds so many but also provides an essential connection for seniors and individuals who may feel isolated.
"Through the support of volunteers, donors and funders, CCD has been delivering meals to local residents for 45 years. It's a cornerstone program among the many services we provide to help people live at home, where they want to be. We are so pleased to partner with the Sienna for Seniors Foundation and the team at Aspira Lynde Creek Gardens Retirement Living to deliver this special Thanksgiving meal. Together, we are coming together to champion healthy living and aging in Durham Region," said James Meloche, CEO of Community Care Durham.