Over the Family Day weekend in Ontario, many families in Oshawa took part in the opportunity to get together to celebrate. In retirement homes, family includes a wider circle of residents and caring team members. With this comes a strong desire to give back to the local community.
Recognizing that many seniors in the area may not have family nearby, and an increasing number of people are struggling with food insecurity, three Aspira retirement homes in the Durham region teamed up to provide approximately 120 meals to Community Care Durham's (CCD) Meals on Wheels program. The food was prepared and donated as part of the Sienna for Seniors Foundation's Sunday Supper program.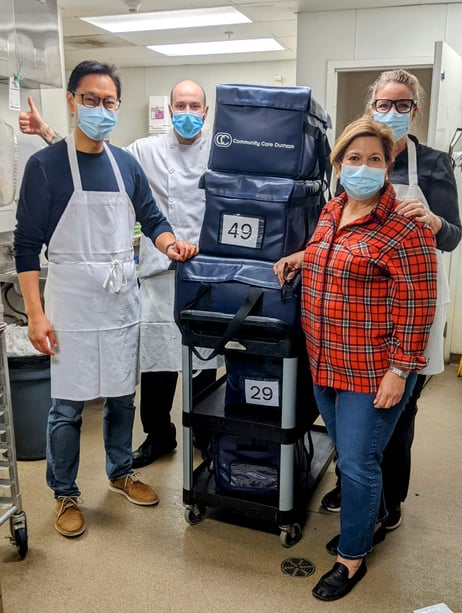 Early Friday morning, the executive chefs at Aspira Douglas Crossing, Aspira Lynde Creek Gardens, and Aspira Traditions of Durham began preparing fresh, home-cooked meals, including salad, penne pasta primavera, garlic bread, grilled vegetables and cheesecake for dessert. The meals were finished and packaged by mid-morning ready for CCD volunteers to deliver to clients.
"We want the community to know that these meals are made from the heart and that whomever the recipient is, we want them to feel like they are an extended part of our family as well," says Chef Michael Beninato. "Here in the Aspira Traditions of Durham kitchen, we love to cook great food and have fun doing it. We are happy to open our kitchen and hearts to those in need this Family Day weekend."
Partnering with CCD continues to put this spirit of giving into action. In October 2022, the Sienna for Seniors Foundation hosted a Sunday Supper by donating Thanksgiving meals to Meals on Wheels in Whitby. According to CCD, Meals on Wheels is critical to helping seniors and other members of the community maintain their independence at home. Last year, the organization delivered more than 150,000 meals locally. This type of outreach program is vital because it feeds so many and provides an essential connection for seniors and individuals who may feel isolated.
"Every day hundreds of meals go out from all our Hubs thanks to the hard work and dedication of our staff and volunteers," James Meloche, CEO, Community Care Durham said.
Having partners, such as Aspira Retirement Living, not only volunteer, but provide special meals throughout the year, speaks to our goal to work with others in championing a healthy and caring Durham region, explained Meloche. Their support helps us enrich the well-being and quality of life for our clients wherever they call home.