Music plays an important role in most of our lives. It has the power to spark joy, help us heal, and to bring us together. If you've ever seen your favourite artist live, you know it's an incredible experience that can create memories you'll cherish for forever. But for those who move into long-term care, it's an experience that can feel far from reach.
At Sienna, far from reach doesn't stop us from trying. And when we try, we can bring dreams to life for our residents. That is exactly what happened at Trillium and Tullamore communities, where the teams each helped a resident attend the concert of their dreams.
Ten Years in the Making
Kamaljit, a resident at Tullamore Community in Brampton, Ontario, is a long-standing fan of Michael Bublé. About one year ago, Kamaljit wrote to Michael Bublé during a letter writing program facilitated by Activation Aide Fernanda Cunha, and was pleasantly surprised when she received a card in response. Bublé's management company said that he would be going on tour in 2022 to which Kamaljit replied promising that she would attend.
Months later Fernanda saw that Michael Bublé was scheduled to perform at Scotia Bank Arena in Toronto. The concert was just five days away. As a music lover herself, Fernanda knew how meaningful this experience would be for Kamaljit so she spoke to her Director of Resident Programs Heather Barrow, explaining how Kamaljit had been waiting over a year for this opportunity and that she had been saving money for the last ten years for a special moment like this.
Despite not knowing exactly how they were going to make it happen, the Tullamore team agreed that they should try their best to give Kamaljit this experience. They received consent from Kamaljit's son, even though he was somewhat skeptical of how his mother would react because she had never been to a concert, let alone one with 14,000 people in the heart of downtown Toronto. He wanted to respect his mother's wishes and kindly offered to arrange transportation and to be on standby the night of the concert.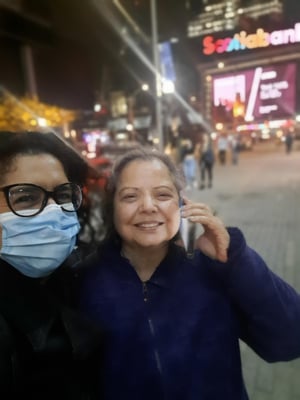 "Kamaljit was set on having me attend the concert with her, so I changed my shifts around to be available. We had to consider the drop off and pick-up locations, walking distance, and seat location, and we spent a lot of time ensuring Kamaljit understood what the night would be like before we set out," said Fernanda.
The Tullamore team prepared Kamaljit's medications, provided an early dinner, and several team members came in ahead of their shifts to help Kamaljit pick a nice outfit and get her hair done. Once she was ready, Kamaljit was excitedly telling everyone throughout the residence that she was finally going to see her favorite artist.
After the 40 minute ride to the venue, they got their seats and Kamaljit was bursting with excitement. Throughout the concert, she sang, screamed, danced and laughed. At one point she said to Fernanda, "This is a dream. I'm so happy, I'm so happy!"
It was a dream for Fernanda too – to help provide this experience for a resident. "It was so rewarding and made my entire year. Our team all lived through Kamaljit's dream that day and it's something we will always remember," said Fernanda.